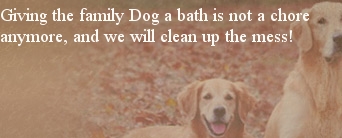 Welcome to Mutt Puddles self serve Dog wash

Mutt Puddles Dog Wash is a self service pet bathing facility and grooming salon with top of the line tubs for you and your pets comfort and safety.  We are here to provide a place for you to bath and bond with your pet and assist you in learning how to care for your pet yourself  and to avoid the rising costs of professional pet grooming.  We offer clean tubs and towels, shampoo's conditioners and  perfumes.  Also available are professional grooming tools and tables to groom your own pet with our assistance.  Our Dog wash facility offers the perfect combination - the ambiance of a Spa with the amenities of an upscale self serve grooming facility.  We also offer professional grooming at an affordable price.

We are convieniently located in Spanaway one block east of Pacific avenue and near the military bases.

Pet sitting available by appointment @$30.00 a day.  Pets are NOT kenneled during their stay. Bring their favorite bedding and their food and bowls to keep them on their same diet